Dougald MacNeill spots Lady Alana Cameron roaming the MacNeill lands in search of Rory MacNeill, who is about to become a father. Dougald sends one of his men to search for this MacNeill and insists that Lady Alana must accompany him to his Laird's castle.
Dougald falls in love with Lady Alana on sight and would like nothing more than to make her his bride, but their clans are not on the best of terms and Lady Alana is already betrothed to another man. However, once they arrive at the castle, Laird James MacNeill decides that the two must marry. Lady Alana's reputation has been compromised. She was with Dougald for two days and without one of her maids. Even though Dougald never touched her, he has a reputation as being a rake and the damage is done.
Lady Alana is attracted to Dougald, too, but she doesn't want to be married to a man who is a rake. Her brother had been one and he was murdered because he slept with another man's wife. She also has a big secret: She can see and talk to ghosts and fears Dougald will find out. Since her brother's untimely death, he's been haunting her and shows up at the worst of times, making it difficult for her to hide her special talent. To top it off, Dougald's sister haunts the castle and reveals herself to Alana, too.
As if the Dougald and Alan don't have enough to deal with. Someone is after Lady Alana, but the reasons are sketchy. It seems the motive goes back to when Alana was a child. She witnessed her father's death. There are secrets and plots that stem from this horrible event. Dougald is determined to keep his new bride safe and find out who is trying to harm her--even if it means his own demise.
Terry Spear has a way with words and her storytelling breathes life into her characters. You're sure to fall in love with the humans and the ghostly one's as well. I've enjoyed the other books in this series, too.

Winning the Highlander's Heart

was the first book I ever read from this author. I couldn't put it down and had to find out what else she had written. The second in this series is:

The Accidental Highland Hero

. If you love paranormal tales, also check out her other titles, too. You won't regret it.
Note: The author gave me a digital copy of this book for an honest review.
Crazy Jack by Gerald Costlow
Purchase a copy at: Smashword
Amazon Kindle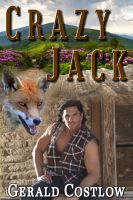 It's the 1920s and Elizabeth Sherritt is raising her orphaned nephew and trying to make ends meet. Crazy Jack wants to marry her, but the man talks to animal spirits. How could he be a good role model for an impressionable boy?
Elizabeth knows Jack is innocent, but to prove it, she must call upon her friends for help, reveal her secret about her nephew, and ask her kinfolk to use their powers to set things right.
I'm convinced Gerald Costlow has a wee bit of Sherritt blood running through his veins. He has the talent of keeping the reader spellbound to the very last page. All his characters come to life and you can't help but pray they find their happily-ever-after. Embrace the adventure and let yourself be transported to the holler where witches, animal spirits and angels are the 'normal' way of life. You'll be glad you did.
I also recommend: Deal with the Devil--Seth and Jolene's tale.
Maya Flores, librarian by day and demon hunter by night, is immune to magic and is aware of supernatural beings. Taeg sees Maya as his best hope in finding the sword, but Maya has her own agenda. A brutal demon attack wiped out her family and she plans on ridding the world of all demons and that includes Teag.
Oh, I just love this demon/fae brother that gives up all to save his family. Taeg is my favorite. He's charming if not a little impulsive, but he's gorgeous, has an inflated sense of responsibility and he makes me chuckle. This character is wicked fun! Only he could accidently kidnap a woman with hopes of convincing her to help him, but then the man does possess skills. Seducing a woman should be easy for him, but Maya is no push over and she's not about to go all gaga. She'd rather kick Taeg's butt than make love to him, but their battles become foreplay until they finally tumble into bed for the real fun. However, attraction and lust are nothing compared to these two falling head over heels for each other and neither one goes willingly, but fall they do- hard and fast. This action packed tale of honor and sacrifice is a sure winner.
As in all the books in the Demons of Infernum, the brothers stick together. They aren't just brothers, they're friends. I love their relationship with each other, their banter, and their sense of honor. I recommend all the books and look forward to reading about Dagan's story. Don't miss:
Blood of the Demon (Demons of Infernum)
Touch of the Angel (Demons of Infernum, #3)
Karen Michelle Nutt, author of
Magic of the Loch Loch
*********************************************************************************
Stephanie Burkhart/Feast of Candles
ASIN: B008NXELPG
Amazon
After Drake's first taste of Lily Marquand's wine, he hops a flight to Napa Valley, CA to meet her. Lilly has reservations about Drake de Brettville from Denmark. Does he wish to truly woo her or does he only want to take her to bed in hopes of finagling a contract deal?
This short romantic story takes you to the heart of wine country with its picturesque rolling hills and lovely vineyards. This Danish nobleman knows what he wants and he's determined to have Lilly. Love at first sight can be 'lust', but in this tale the couples heated moments of steamy caresses amounts to so much more. Pour yourself a glass of wine or your drink of choice and treat yourself to a romantic interlude with Ms. Burkhart's Feast of Candles.
Karen Michelle Nutt, author of Storm Riders and Creighton Manor
********************************************************************************
For Want of an Angel by Rosalie Lario (The Fallen Warriors Series) B0093PKNFU
Amazon
Aaron is one of the Fallen and he's found his mate Samantha, a cat burglar, who can manipulate and interfere with electrical signals. Samantha believes all angels are evil and has real trust issues where angels are concerned. When Aaron shows up and bungles one of her heists, she expects the worst.
Aaron's wife betrayed him and he believed he'd never find another mate. So when he finds Samantha, he will do anything to convince her to stay with him, but first he must prove his intentions are not to harm mankind, but to save them.
Ms. Lario's Fallen Warriors series had me hooked with book one. I love her strong, warrior angels and their nephilim mates. The romance is the first and foremost in these tales, but there is a back story. These fallen are trying to same mankind from the angels who are bent on destroying humans. In this tale Samantha and Aaron must learn to trust each other. Aaron's wife betrayed him and left him to die. He never thought he'd love again until he meets Samantha. I love Aaron's strength as well as his vulnerability. Samantha is a strong woman who is a perfect match for Aaron. Though she has trust issues, she's willing to at least give Aaron a chance to prove his worth. The love scenes are erotic and tender. You can't help but route for these two.
This is a lovely addition to Ms. Lario's Fallen Warriors series. You'll want to read them in order to fully appreciate what these fallen angels are trying to do. I highly recommend this series! Don't miss the first two stories: For Love of an Angel (book 1) and Angel's Desire (book 2). Also check out her Demons of Infernum Series. You won't be disappointed.
Karen Michelle Nutt, author of Magic of the Loch PNR/Paranormal Reviews
********************************************************************************
A strong 4 1/2 Stars for this Lovely Romance.
Amazon
Narin Malcom needs a competent aide and chauffer. Aela Cameron needs a job and agrees to be at this Scottish hunk's beck and call. However, someone is bent on ending Narin's life, but danger to life and limb is not the only thing these two must worry about when their passing fancy becomes something more. Hearts are in jeopardy of being broken if their romantic trysts do not eventually involve trust and commitment.
Ms. Jardine romantic tale contains a wounded hero you'll want to nurse back to health yourself. The foreplay will keep you breathless and Narin and Aela's banter will make you chuckle. The description the Scottish castle is rich and brings alive the old structure in vivid detail. As for the secondary character: I really adored Ruarhid, Narin's father.
The only minor disappointment was that I'd hoped for a little more danger and suspense when I realized Narin's injuries were from someone attempting to end his life, but this story is a romance first and foremost and a delightful one at that. I highly recommend this lovely romance.
********************************************************************************
Review for
Deal With the Devil
by Gerald Costlow
978-1476033082
Amazon
1920s in the Appalachian Mountains, Chad Morgan and Jeb Smith make a deal with the devil or Mr. Scratch as he likes to go by. Riches for moonshine—so easy. However, fail to deliver and whatever the two cherish the most will be forfeited.
The two soon realize the deal wasn't so sweet. Their children, Seth and Jolene are in love. When the deal goes sour, the sweethearts may be the ones to suffer the consequences.
Costlow's 'Deal with the Devil' is a quick read, but rich in detail and with witty characters you are sure to remember long after you've read the story. Jolene and Seth's romance is sweet and their hopes and dreams become apparent with each stolen kiss.
This story of past debts, broken deals and forbidden love is a must read. Costlow delivers a delightful 'good versus evil' tale you won't want to miss.
********************************************************************************
Night Spoor
by
Wayne D. Dundee
My rating:
5 of 5 stars
Simon Oakhaven and his granddaughter, Jennifer, hire Pitcairn, a hit man to kill Simon's wife, Lenora, whose appetite for blood leaves a trail of bodies in her wake.
Pitcairn didn't believe Simon and Jennifer's claims that Lenora is a vampire, but one almost deadly encounter brings him around to their way of thinking. All their lives hang in the balance and they must work together to take out the evil beauty before they become her next victims.
Night Spoor is a set for present day, but it reminded me of the 1930s-40s hard-hitting, fast-shooting and intelligent detective shows, only the bad guy isn't a mobster, but a beautiful and evil vampire who needs to be staked.
I liked how Jennifer and Pitcairn's friendship progresses into a more meaningful relationship as they work together. Mr. Dundee's secondary characters, the good and the evil add depth to the story.
Night Spoor's well-developed plot of suspense and vampire lore makes this dark and edgy tale an adventure you don't want to miss.
View all my reviews