-->
It's trick or treat time! I'm giving away a free copy of Two Worlds Collided today!!
Download your free book for the Halloween Month of Treats Giveaway!
http://bit.ly/2fCCAmh
Enjoy and Happy Halloween!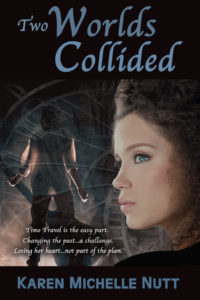 About Two Worlds Collided:
Evie Reid on a whim agrees to travel back in time to 1997 to change bad boy Bellamy Lovel's path of destruction. She's smart with a college degree, but she is still fan-girl crazy for the rock band, Civilized Heathens. Evie knows despite all Bellamy's smiles and enthusiasm on the stage, he's destined to end it all on one lonely night in a hotel room unless she can change his path.
Bellamy isn't keen on having Evie as his personal assistant, hired by his band mates to watch over him, and keep him on schedule. However, there is something about the woman that sparks his interest, despite his best to ignore her. When darkness threatens to consume him, he realizes she may be the only light that will chase the shadows away.