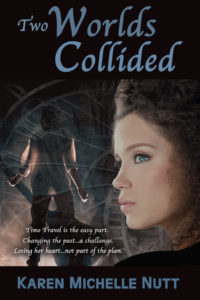 TWO WORLDS COLLIDED

has been nominated for the 2017 RONE AWARDS for best time travel romance!
Voting for this category is
Cast your vote here:
http://indtale.com/2017-rone-awards-week-three
About Two Worlds Collided:
Evie Reid on a whim agrees to travel back in time to 1997 to change bad boy Bellamy Lovel's path of destruction. She's smart with a college degree, but she is still fan-girl crazy for the rock band, Civilized Heathens. Evie knows despite all Bellamy's smiles and enthusiasm on the stage, he's destined to end it all on one lonely night in a hotel room unless she can change his path.
Bellamy isn't keen on having Evie as his personal assistant, hired by his band mates to watch over him and keep him on schedule. However, there is something about the woman that sparks his interest, despite his best to ignore her. When darkness threatens to consume him, he realizes she may be the only light that will chase the shadows away.
Available at
:
Ebook:
Amazon
/
Amazon UK
/
iTunes
/
Smashwords
/
Nook
/
Kobo
In Print:
Amazon /
Amazon UK
/
Barnes and Noble
/
Createspace
/
Book Depository
This excerpt was edited for PG 13 rating.
Excerpt:


They took the elevator up with a couple that left them when the doors opened on the third floor. Then they were alone. All alone. He was staring at her again, and she wondered for the umpteenth time why.
Finally, the doors to the elevator opened on their floor and he allowed her to go on ahead of him, like a perfect gentleman. She had a hunch it was more so he could check out her behind as she walked, but she had her sweater wrapped around her waist, so he wasn't seeing much.
She fished out her key from her purse once they were at her door. She turned to say goodnight to him, but he was so close she took a step away. He took a step closer and she backed herself against the wall. His lips slid into a smile that reminded her of a predator ready to take down its prey. This was Bellamy though: sexy as hell Bellamy with the voice that could seduce any woman into compliance. He knew it too. God, how he knew it.
His sure fingers removed her black-rimmed glasses. "I've been wanting to do that all day." He slipped the handle at the opening of her blouse. It was only her glasses, but it felt way too intimate, like his finger was doing the caressing as the handle brushed her cleavage. Next, he reached for the pins holding her hair in a bun, leaving it to cascade around her face like the frizz ball it was, but he didn't seem to mind. She wondered if he could hear her heart. It beat so fast, pounding hard as if it wanted to move closer to him.
"What would you say, Book Marm, if I picked you up and carried you to my room? Would you let me make love to you?" He nuzzled her neck but didn't kiss her, though she could feel the heat of those luscious lips.
She bit her own to keep herself from crying out, Yes, yes, take me.
"You smell divine," he murmured.
She nearly snorted. Everyone knew Bellamy Lovel couldn't smell or taste due to a blow to the head. Well, in her time they knew that. He'd kept it a secret. Only after his death did everyone find out the truth. It had been a freak accident at a baseball game. The foul ball hit him in the head, but it was the fall where he hit the back of his head that caused the damage. His loss of those senses had also added to his depression.
"Well?" He glanced at her now. His eyes were heavy-lidded, and she could smell the alcohol he'd been consuming all day on his breath, but if she didn't know better, she would have thought he was indeed turned on.
If she didn't know better...
He couldn't smell her at all. So what game was he playing right now? She didn't really care. He wanted to play. Well, so could she.
She smiled sweet and slow as she ran her hand over his chest, which the button-down shirt left bare. Then she realized what she was doing. Jesus, she was running her hand over his flesh. She blinked. Concentrate, concentrate. "If I go with you to your room, I'll give you the best sex you ever had." She held his gaze, even though her heart was rioting in her chest.
For a moment his smile slipped and his brows rose high on his forehead. Heck, she was doing a little eyebrow raising herself too. Did his heartbeat just pick up speed? She rubbed her hand over his chest, pressing a little harder, but before she could decipher the answer, he clasped her wrists and raised her hands to his lips with a sweet caress. A chill ran down her spine and yet, she felt hot as if her blood had reached the boiling point.
"Ah Darlin', I have the mind to take you up on your fine offer, but we both have an early day tomorrow." He leaned forward and she thought he was going to kiss her. She licked her lips and again he gave her that wicked smile, but instead, he pressed his mouth to her forehead. "Goodnight, Miss Book Marm."
Then he was gone. It took her a few seconds to realize she was still standing in the hall and not in her room. "Jesus." She fumbled with the key and went inside before she melted into a puddle of mush.
Bellamy had kissed her. Not a passionate

you're-so-hot

kind of kiss, but his lips had touched her flesh.
She pushed away from her door and this time, she did snort. "Get a grip. He's just a man." And kissing and hugging were not about her mission here. She had less than three weeks to convince him he didn't want to end his life after the tour began, and he had nights alone in hotel rooms. Long hours where he could dwell on the past. Days where he only had a few hours of shuteye before he'd have to perform again. He would be exhausted, making it easy for depression to weigh him down.
No more kissing, she firmly warned herself, even if it was only a peck on the forehead. The next weeks with him were crucial. She needed him to open up to her, to confide in her, and hopefully, she would be able to come up with some words of wisdom that he could carry with him when the shadows haunted him.
About the Author: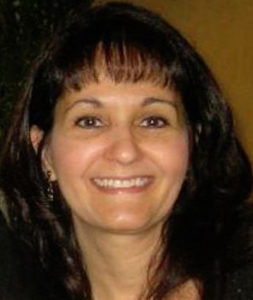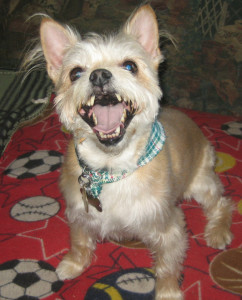 -->
Karen Michelle Nutt resides in California with her husband, three fascinating children, and a houseful of demanding pets. Jack, her Chorkie, is her writing buddy and sits long hours with her at the computer.
When she's not time traveling, fighting outlaws, or otherworldly creatures, she creates pre-made book covers to order at Gillian's Book Covers, "Judge Your Book By Its Cover".
Whether your reading fancy is paranormal, historical or time travel, all her stories capture the rich array of emotions that accompany the most fabulous human phenomena—falling in love.
FOLLOW ME AT:
Amazon Author's Page
/
Facebook
/
Goodreads
/
Twitter @KMNbooks
/
Google+
/
Pinterest
/
Linkedin
/
BookBub
/
Tumbler
/
YouTube / KMN Books Blogspot