KAREN:
I have Elle Boca at KMN Books today to tell us about her amazing
Weeia Series
! Elle, tell us how you came up with this fantastic series.
ELLE:
I was working on another book when Amy, the main character in the
Weeia Series
, approached me. Okay, it was a conversation I had with myself. But, it changed my direction. I had been working on a mystery for my first fiction work and following the "conversation" with Amy I decided to tell her story in an urban fantasy. As far as I know, it is the first urban fantasy series set in Miami (based on real life South Florida), and the first urban fantasy about superhumans. The beginning was rocky and then the whole series presented itself. While Amy and Duncan remain constant throughout each book has a slightly different tone than the others, and each one contributes pieces that tell the story until all is revealed in
Unelmoija: Paradox
.
KAREN:
Sounds like quite an adventure I sure ubran fantasy fans will enjoy! Readers please feel free to ask Elle questions, I'm sure she'd love to hear from you. Also read on and enjoy a sneak peek of
Unelmoija: Paradox.
About the Book
Amy and her friends uncover the cause of the disappearance of New Lyon, only to face their greatest challenge. Altering the past could mean the end of all humanity, while doing nothing could have dire consequences for those they love. Forced to risk everything and choose between the familiar and the unknown, even the Unelmoija may not be strong enough to evade the paradox.
Excerpt from Unelmoija: Paradox:
Before he could finish his sentence the banging restarted. He got up and was by my side in seconds. Duncan was a speedwalker, a superhuman able to walk at such high speeds as to be invisible. He had a runner's build and curly dark hair, brown with blonde highlights. His sexy brown eyes with long lashes and smooth deep voice drew attention away from a thin long scar that crossed his face.

We were Weeia, members of a secret race of superhumans. We ran into my sister Kat and our grandmother, Helen or Grams as I had begun calling her, in the hallway.

"I thought I heard someone at the door," Grams said. Her voice sounded loud in the absence of knocking. "When I came to check I found Katharina. She heard noises too." No matter how many times Kat asked our grandmother to call her by her diminutive she still called her Katharina. When I looked at the shadows behind our grandmother for her husband, she added, "Your grandfather can sleep through a storm."

The banging resumed as the four of us made our way to the front door. There was no mistake.

Someone was knocking and ringing the doorbell too.

"Who is it?" Kat asked, standing on one side of the door the way they did on television.

"It's Vlad. Open up. I need to talk to you. It's urgent," a familiar young man's voice said.
Kat looked at us. We looked back. Vlad was her one time friend until she discovered he had never been sincere. I had never cared much for him and tried to warn her that he couldn't be trusted, but she thought I was being unkind. I shrugged. Duncan tolerated him for Kat's sake, and our grandmother had never met him.

"Up to you. If you don't want to talk to him we can ask him to go away," I said, hopeful that we could settle things with a minimum of fuss and return to bed. "It's a friend of Kat's," I said to Grams.

As if he had heard me Vlad banged on the door again. He waited before yelling "I can hear you're in there. Open the door. If you don't open the door I'll knock on your neighbor's house and tell them you need help. You'll have to open the door to them."

There were only a couple of houses next to ours and one of them was vacant. It was an ineffective threat at best, but I wondered if Kat would give in if only to see Vlad again.

"You're beginning to annoy me. I don't have to do anything," Kat said. "I don't owe you anything, not even the time of day. Go ahead, knock on their door. They're armed to the teeth and they don't like strangers. They'll shoot your tail before I can count to ten. If you want me to listen all you have to do is ask nicely instead of behaving like a spoiled brat. Didn't you learn to say please growing up? Does it matter to you that you're waking everybody and not just me? Why didn't you call?" She sounded angry.

My big sister had toughened up. There was a time when I couldn't say anything about Vlad without getting a distrustful look from her. I guessed being apart from him so his spiritshifting ability didn't affect her provided her some perspective. Vlad's spiritshifting allowed him to influence others' emotions. Although Vlad had a sort of enhanced charisma, my own abilities meant I was immune to his spiritshifting. It didn't help that Vlad had disappeared as fast as he had first appeared. He didn't text or return Kat's texts or calls. She had been worried something had happened to him until she saw him walking around downtown Miami without a care in the world.

The banging stopped. I was starting to believe Vlad had gone when he spoke. "You changed phone numbers and I don't have your new number." It was true. We had changed our cellular plans. "My father has gone off the deep end. He's threatening to blow up the Saint Lucie Nuclear Plant. I need to talk to you."

"What's the Saint Lucie nuclear plant?" Kat asked the question that was on my mind.

"It's one of two nuclear energy plants the power company owns in Florida. They have three more nuclear facilities in other states." To our surprise it was Owen, our grandfather, who answered. I hadn't even heard him arrive. "In the plants, they generate energy by splitting uranium atoms, a radioactive element I'm sure you've heard of, in a process called nuclear fission." Who knew he was so well informed about our local power company? "Their properties are well guarded. It would take technical knowledge and powerful abilities to disrupt them. Is Vlad Weeia?" Small lines on his forehead creased in a worried expression. "Is his father a Maximus?"

Kat and I had met our grandparents months earlier and we were still getting to know them. Several weeks before, following the sudden death of our mother during an attack by a radical group of Weeia who were trying to kill me, they interrupted their nomadic lifestyle to be with us. Duncan had moved to Miami from Seattle for the same reason. As far as I could tell, our grandfather was the silent type.

He was quiet for the most part, speaking only when he had something to say and valued the listener's opinion. He waited for Kat's reply.

"Yes, they're Weeia. Sorry he woke you with his ridiculous outburst," Kat said. "He's Russian. Maybe they do things that way there or it could be he is just rude. I don't know if his father is Maximus, but I know Vlad is seriously afraid of him. My impression is that he's a wealthy and powerful man,"
"And, rather unhinged," I added. "He's got an unhealthy dose of loco in the head." Using my index finger I drew circles in the air near my head to emphasize the point.
Purchase your copy today at Amazon.
Other books in the series are:
Amy. Pretty, intelligent, with newly acquired superhuman skills, she lives in a historic Miami waterfront estate. She's about to discover that isolation, youth and extraordinary abilities may not be enough when someone wants you dead…
In book two of the Weeia series, Unelmoija: The Mindshifer, Amy's courage is put to the test. Will her new found allies, human and Weeia, help her? What of Duncan, her love interest? Who is the half demented man torn between killing and hugging her?
Loi, an amplifier able to help young superhuman Weeia develop their abilities, is found dead of mysterious causes. Amy, like Loi, may be an amplifier. If she gets involved she might be next. Should she risk her life to help Weeia youth unlock their abilities?
Amy's past is catching up with her in a way that could only happen to a Weeia. She is drifting in her own timeline and must be careful not to change anything or she may never find her way to a familiar present. Will she and her friends solve the mystery in time for Amy to realize her ultimate destiny?
About the Author: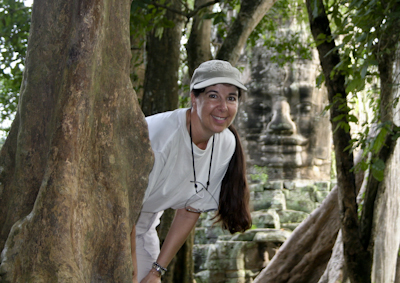 Elle is the author of the Miami Weeia urban fantasy series about superhumans. Elle makes her home with her king cat husband in South Florida. When not writing and creating fantastical beings she likes photographing nature and wildlife, eating baked goods, watching movies, and dreaming of going on safari. Growing up the only child of a monkey mother and a rabbit father she learned to keep herself entertained and spend time reading.