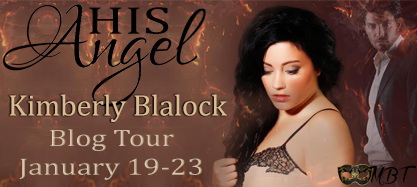 -->
Karen:

Let's start with you telling the readers a little about yourself.
Kimberly:

I am from Kansas City, Mo. I am a wife and mother of four amazing children, when I'm not taking care of my children you can find me reading, writing, or working my "day" job as an on call hospice RN

.
Karen:
Tell us a little about the story. What inspired you to write this tale?
Kimberly

: His Angel released on Dec 31st 2014. I wanted to write a story about an amazing hero that would do anything and go as far as he could to save his angel.
Karen:

Evan Young

is the hero of the story. What is he like What is his first impression when he meets Abby, the heroine of the story?
Kimberly:

He's deep, Evan has a lot to hide. But, he's sexy and loyal which I think makes up for the secrets. He is absolutely taken back by her. To Evan Abby is the most pure thing he has ever come across in his dark world.
Karen:

Tell us about this first meeting. What does she think of the hero?
Kimberly:

The first time Abby meets Evan is for her, a "blind date" that her

best friend Amy set up. Abby is in complete awe and she knows instantly that she wants him, but she is fighting some inner turmoil and doesn't admit it right away.
Karen:

What are your current projects and works in progress?
Kimberly:

Currently, I'm finishing up My Demons which is book #2 of the Angel Trilogy.
Karen:

Tell the readers where they can find you:
Kimberly:
Website / Facebook Author Page / Goodreads link / Amazon Author Page/
Twitter: @kimblalockAngel
Karen:

Is there anything else you'd like to tell the readers?
Kimberly:

Yes thank you! I would like for them to know I am just a girl that loves to create fiction and I'm so excited to get to know every single one of them!
Karen:

Are you going to run a contest? If so what will you be giving away as the prize?
Kimberly:

Yes, I'm giving away a $25.00 Amazon GC
Thank you so very much, Karen!
Karen:

Thank you, Kimberly, for being here today! I wish you the very best!!
Series: The Angel Trilogy #1
Publication Date: December 31, 2014
Genre: Contemporary Romance (18+)
About the Book
When Evan Young walks into Abigale Hayes's life she falls; mind, body, and soul for the man she thinks he is, having no idea that the secrets he holds in his hands will destroy the girl she is. Abby must decide how the truth will affect the relationship that has her craving more with every breath she takes and how she will take revenge into her own hands. Evan will die to protect Abby and will kill for her too. The events that unfold will change who Abigale Hayes is forever.
About the Author
Kimberly has been writing since she was a young girl growing up in Kansas City, Mo. Reading and writing has always been a big part of her life. She enjoys a world she can get lost in while reading a good book. A wife and mother to four beautiful children she decided she wasn't busy enough. She spent some time chasing down fugitives as a bounty hunter then laid down her hand cuffs and finished her college degree in nursing.
Kimberly loves discovering new music to jam out to and loves anything that's different. Her many interests include Google, you heard it! Google. If you need to know any unusual or interesting fact she has searched it and can recite it. Her motto is: Why be the same as everyone else when you can stand out?
When Kimberly isn't writing or playing superhero for her children, she takes care of her patients as a Registered nurse in the field of hospice.
T

here is a giveaway for this tour. A $15 Amazon or Barnes and Noble gift card or credit at the Book Depository. Ends 1/30. The code for the Rafflecopter is provided below.
a Rafflecopter giveaway