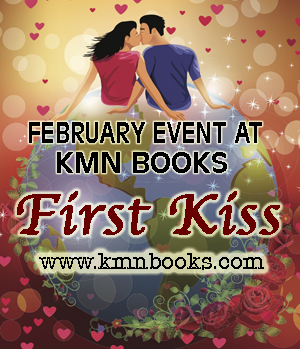 FIRST KISS
event begins Feb 1st right here at KMN Books!
28 days of breathtaking moments where you'll meet the authors' characters and experience those heroes and heroines' first kisses.
28 days of giveaways, too. That's right. What's a party without prizes? Print books, eBooks, Amazon gift cards, Starbucks Gift cards, and other goodies.
All you have to do is leave a comment or ask a question and you're entered in the giveaway for the day. It's that simple. So what are you waiting for? Pucker up and enjoy the magic!
There's more fun on the
First Kiss Facebook Event Page
So don't forget to join!
Participating Authors are:
Feb. 1
Ginger Jones Simpson
Feb. 2 Savanna Kougar
https://www.facebook.com/pages/Shapeshifter-Seductions/169058776466955
Feb 3
Debra St John
- Facebook participant

Feb 3 Amy Lillard
Feb 4 Margaret Tanner Simpson https://www.facebook.com/margaret.tanner
Feb 5 Gerald Costlow
Feb 6 Stephanie Burkhart
Feb 7 Author Charmaine Gordon
Feb 8 Sharon Kleve
Feb 8 Karen Michelle Nutt Facebook participant
Feb 9 Kathleen Adams Kathleen Rice Adams
Feb 10 Deborah Macgillivray
Feb 10 Arial Burnz- Facebook participant
Feb 11 Sarah McNeal
Feb 12 Babette James
Feb 13 Gina Conkle
Feb 14 AmyJo Nuest
Feb 15 Kennedy Streath https://twitter.com/KennedyStreath
Feb 16 Lindsay Downs
Feb 17 Donna Michaels
Feb 17 JoAnne Myers- Facebook participant
Feb 18 Shelli Rosewarne
Feb 19 Dianne Hartsock
Feb 20 Jannine Gallant
Feb 21 Cheryl Pierson
Feb 22 Kristy McCaffrey
Feb 23 Sara Barnard
Feb 24 Jacquie Rogers
Feb. 24 Diane Davis White
Feb 25 Eva Gordon
Feb 26 Livia Washburn Reasoner
Feb 27 Tanya Hanson
Feb 28 Linda Broday