Don't forget to pop over to Melissa Snarks 25 Days of Christmas Stories! This is Day 9!
She is showcasing 25 wonderful books—one each day—for your reading pleasure. Read a snippet, check out the review, and discover your next read! WANTED is being showcased today Dec. 9th! Leave a comment for a chance to win an eBook copy of WANTED and an eBook copy of MISTLETOE, STAKES, AND YULETIDE CHEER!
Pop on over and find out how you can add both books to your Christmas stocking!
http://melissasnark.blogspot.com/2013/12/25-days-of-christmas-stories-wanted.html

Available at:
Blurb:
~ This story of romance, with a Christmas setting, is exciting reading year round. ~
What's a hunter to do when she's fallen for the vampire she's been sent to stake? Cassandra Hayes has been dating Tremayne Graystone, the vampire she's been sent to eliminate.
To stake or not to stake is the least of their problems when masked men kidnap them and hold them hostage. They realize all they want for Christmas is a chance to make their relationship work. Kisses under the mistletoe may not make this holiday merry, but they're willing to give it a shot.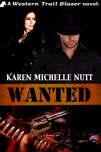 Sheriff Jace Kelly's wife died giving birth to his remarkable daughter, Emma. She inherited the families' seer abilities, but being only six-years old, she has the tendency not to know the difference between a vision and just an ordinary dream. So Jace doesn't put too much faith in Emma's recent premonition: marriage for him and a new mother for her, all because she wished upon a Christmas star.
When JoBeth Riley arrives in town, Emma is convinced this is the woman she dreamed about: dark hair, green eyes and shamrocks in her pocket. Only there's one problem, she's the notorious outlaw, Baby Face Jo.
JoBeth's stay in the lumber town is meant to keep Shane Maverick, the leader of the outlaw gang from finding her and breaking her out of jail before the authorities have time to devise a plan to capture him.
JoBeth finds the Kellys a strange lot. A little girl, who believes her dreams are tales of the future and the rugged sheriff whose kindness proves a distraction. She's an outlaw for heaven's sake, but Jace is bound and determined to steal her heart.