CRYSTAL BENEDICT IS THE WINNER OF THE $10 Amazon Gift card! Thank you Everyone for participating and making this hop so fantastic!!
Lá fhéile Pádraig sona dhuit! Happy St. Patrick's Day to You!
(pronounced, roughly: /lah leh PAH-drig SUN-uh gwitch/.)
St. Patrick's Day is one of my favorite days. I wear green (duh!) Don my f

avorite

Celtic jewelry, and make my

yearly

Irish Soda Bread. Want to

stop

by for tea?
I thought I would share a few St. Patrick's Day tidbit

s

with you because you just never know when you'll be quizzed on this. lol

So feel free to take notes.
St. Patrick's Day Tidbits You Gotta Know:
Wearing the Green
Did you know blue not green was the color originally associated with St. Patrick?

On Ireland's Presidential Standard (flag) "St Patrick's Blue" is used. It wasn't until the 18th century when 'wearing the Green' came about. Most likely it was used as a symbol of sympathy for Irish independence.
The legend of the Shamrock:
In an attempt to explain the three-in-one principle of the Holy Trinity to the pagan King Laoghaire (pronounced Leary), St. Patrick used the three-leafed shamrock as his aid.

Four-leafed shamrocks or four-leaf clover: The Irish have a tradition that says if someone finds one by accident they will have good luck. The leaves stand for: Faith, Hope, Love, and Luck. The Irish believe that finding a four-leaf clover is LUCKY but finding one with 5 or more is UNLUCKY.

Druids believed when they carried a shamrock with them, they would be able to see evil spirits and would be able to avoid them. They believed the four-leaf clovers guarded them against bad luck and offered magical protection.
Why do we celebrate St. Patrick's Day on MARCH 17th?
St. Patrick died on this day and it is his recognition as the Patron Saint of Ireland. In Ireland, St. Patrick's Day is a religious day. Of course there's praying, singing and dancing.
Pinches for Not Wearing Green

Look around you and see if you spot someone not wearing green. It is tradition to pinch someone who forgets to wear green on St. Patrick's Day, but only if you're wearing green. However beware: If you pinch someone who is wearing green then that person may pinch you back ten times!
Leprechaun Mischief
Leprechauns are known as guardians of ancient treasure, left by Danes as they marauded through Ireland, burying it in crocks or pots. Leprechauns regard mortals as foolish, flighty, and greedy creatures. The legend: If you catch a leprechaun, he will promise you great riches if you set him free. Make sure you do not take your eyes off him until he does. In a blink of an eye, he can vanish.
The Leprechaun carries two pouches. In one he keeps a magical silver shilling that returns to the pouch each time it is given away. In the other pouch, he carries a gold coin that he uses to bribe his way out of situations. The gold coin turns to leaves or ash once the leprechaun gives it away.
Favorite Irish Movies:
The Quiet Man (John Wayne and Maureen O'Hara)
Tristan and Isolde (starring James Franco and Sophia Myles)
Waking Ned Divine (starring Ian Bannen, David Kelly, and Fionnula Flanagan)
Darby O'Gill and The Little People (starring Sean Connery, Albert Sharpe, Janet Munro)
The Matchmaker (starring Janeane Garofalo and David O'Hara)
Far and Away (starring Tom Cruise and Nicole Kidman)
The Luck of The Irish (starring Tyrone Power and Anne Baxter)
Leap Year (starring Amy Adams and Matthew Goode)
Favorite Irish Books:
Books by Morgan Llywelyn
Finn Mac Cool
Druid
Bard
Lions of Ireland
Price of Lions
Grania (She King of the Irish Seas)
Favorite Irish authors:
Oscar Wilde
-
The Picture of Dorian Gray
Bram Stoker-
Dracula
Darren Shan-
Cirque du Freak YA series
Favorite Irish Sayings:
Beagán agus a rá go maith.
Be (e as in echo) gawn og us uh rah go (as in going) mah.
Say little but say it well.
Irish

Artists

/

Celtic

Music

:

(Click on the name for samples of their music)
Ryan O'Shaughnessy
The Script
Great Big Sea
Brick Top Blaggers
Flogging Molly
Gaelic Stor

m
Irish Actors
Aiden Turner
Ewan McGregor
(I've been corrected. He's Scottish! But he did play an Irish writer: James Joyce in a movie.) Hee hee

--close enough don't you think? :)
Liam N
eeson
Jonathan Rhys Meyers (born Jonathan Michael Francis O'Keefe)
Colin Farrell
Pierce Brosnan
Cillian Murphy
Gabriel Byrne
Stuart Townsend
Irish Soda Bread Recipe
3 cups of all purpose flour
1 tablespoon baking powder
1/3 cup sugar
1 teaspoon salt
1 teaspoon baking soda
1 cup of dried currents (optional)
1 tablespoon of caraway seed (optional) (This has a strong taste think rye bread)
1 egg (lightly beaten)
2 cups of buttermilk (you can substitute by adding 1 teaspoon of lemon juice to whole milk.)
1/4 cup butter (melted)
Directions
Preheat oven to 325 degrees F (165 degrees C). Grease bread pan or use a nonstick spray.

Combine flour, baking powder, sugar, salt and baking soda, (caraway seed and currents). In a separate bowl, blend egg and buttermilk together, and then add it to the flour mixture. Mix just until moistened. Stir in butter. Pour into prepared pan.

Bake for 65 to 70 minutes, or until a toothpick inserted in the bread comes out clean.

Cool on a wire rack.
Best served the same day! For extra flavor, add a little Devonshire cream, butter or jam. Yummy with a cup of tea!
****

MY CONTEST here at KMN Books: It's easy. Answer at least one of the questions below and leave your email and you are entered to win a $10 Amazon Gift Card. I will choose one LUCKY winner! May the Luck of the Irish be with you!

1. What's your favorite Irish themed movie?
2. What's your favorite Irish themed book?
3. Favorite Irish Author?
4. Favorite Irish Actor

?
5

. Do you have a

favorite Irish recipe?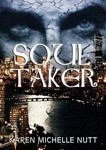 FREE READS ARE MY POT OF GOLD. HOW ABOUT YOU?
St. Patrick's Day
Free
Book.
Offer good
: March 13th to March 17th! (Psst...the freebie days are over, but for a short time it will listed for 99 cents.)
http://www.amazon.com/dp/B00BSWORN0
A vampire from the Grim Sith sept is sucking the souls out of young women from the Boston area, but this sinister crime is far worse than a vampire seeking substance. He's selling the souls to the highest bidder and it seems business is booming.
A vampire, a werewolf and a Necromancer, are a most unlikely team, but Garran, Harrison and Isabella plan on putting a kink in the dubbed Soul Taker's plans. It's personal now. One of their friends has fallen victim to the Soul Taker's charms, but to stop him from hurting anyone else, their efforts may involve raising the dead.
Don't forget to HOP ON OVER to the other blogs for more Lucky Prizes!
http://carrieannbloghops.blogspot.com/p/lucky-in-love-hop.html
There are TWO GRAND PRIZES. You as a reader can hop to each blog and comment with your email address and be entered to win these grand prizes. Yep, you got it, you can enter

over 200 times!
The Grand prizes are:
1st Grand Prize: $100 Amazon or Barnes and Noble Gift Card
2nd Grand Prize: Swag Pack that contains paperbacks, eBooks, Over 50 bookmarks, cover flats, magnets, pens, coffee cozies and more!
ARE YOU LOOKING FOR ST. PATICK'S DAY READ
S
?