CONTEST IS NOT CLOSED. THANK YOU ALL FOR PARTICIPATING. THE WINNERS ARE... STACEY (WINS A PDF COPY OF MOON SHIFTER) AND TRACEY D (WINS AN AMAZON KINDLE COPY TWILIGHT'S ETERNAL EMBRACE)! CONGRATULATIONS. I'LL BE EMAILING YOU BOTH SHORTLY WITH YOUR PRIZES!!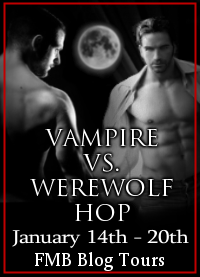 Welcome to the Vampire VS. Werewolf Hop! Don't you just love those creatures of the night? I know I do. Vampires and Werewolves, both have a large fan base and many legends. I have a difficult time deciding which

preternatural being

I like more. I enjoy reading and writing about both of them. Their legends and myths intrigue me. Many countries have their own versions of blood drinking fiends and werewolf tales of horror. Though each legend may be similar, each country has their own interesting spin on the folklore.
In the movies and novels of today, vampires and werewolves have a lethal hatred of each other and are forever trying to eliminate one another. However, this was not always the case. The two beings were intertwined in quite a few of the legends. There is a belief that when a werewolf dies, he or she will return as a vampire. In France there is a werewolf known as the loublin. This werewolf is found in cemeteries. They dig up corpses and eat them. In Montenegro, there is a belief that all vampires can shift to a wolf form. In Greece, they believed that if anyone ate a sheep that had been killed by a wolf, they would become a vampire. Hollywood may depict werewolves and vampires hating each other, but as you can see, the legends state many ties that draw them together.
Also the earlier movies betrayed werewolves of not being able to control their actions and they were tied to the full moon. An Irish legend about the werewolves
states the Ossory people can change into wolves whenever they wanted. When an Ossorian became a wolf he would leave his body at home and it would appear as if he were dead. Before the shift, he would leave strict orders with a trusted friend not to move the body. If someone moved the body and the wolf couldn't find it, he would remain a wolf for the rest of his life.
There aren't many vampire-type myths in Irish folklore compared to other countries, but keep in mind the word

vampire

didn't appear as a word to describe blood-drinking entities until the 18th century. The Irish bloodsuckers were known as: Dreach-Shoula or Droch-Fhoula, which is pronounced "droc-'ola". It means 'tainted blood'. Sean O'Suilleabhain spoke of a site called Dun Dreach-Fhoula (Castle of the Blood Visage). Supposedly, this was a fortress guarding a lonely pass in Magillycuddy Reeks in Kerry where blood-drinking shape shifting fairies lived. Some believe these myths were actually the inspiration for Bram Stoker's Dracula and not Vlad Dracul.
******************************************************
***CONTEST: I'm giving one lucky reader the choice of a vampire tale or a shifter tale. If you should win, you have the choice of a PDF copy of

Moon Shifter

(werewolf) or a Kindle copy of

Twilight's Eternal Embrace

(vampires)

.

MY QUESTION: Do you have a favorite werewolf or vampire legend? If you do, please share it with us. Also, please state which one of the books you would prefer to win and don't forget to leave your email. Good Luck!!
**********************************************************************************
In 2013, look for my new tale SOUL TAKER starring both vampires and werewolves.

No soul is safe…
A vampire from the Grim Sith sept is sucking the souls out of young women from the Boston area, but this sinister crime is far worse than a vampire seeking substance, he's selling the souls to the highest bidder and it seems business is booming.
A vampire, a werewolf and a Necromancer, are a most unlikely team, but Garran, Harrison and Isabella plan on putting a kink in the dubbed Soul Taker's plans. It's personal now. One of their friends has fallen victim to the Soul Taker's charms, but to stop him from hurting anyone else, their efforts may involve raising the dead.
************************************************************************************
Participating
Blogs: