Just released and only 99 cents. I love the cover!!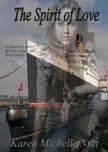 The Spirit of Love
Publisher:
Highland Press Publishing
Cover Artist:
Leanne Burroughs
Word Count
: 12,000
Rating
: sensual
Genre:
Paranormal, ghost, contemporary
Price:
99 cents
Ebook Available at:
Kindle
Nook
Smashwords
Blurb:
A tragic accident leaves Brynna and Travis devastated. Instead of turning to each other for comfort, they drift apart. However, they must complete one more assignment—set on an old ship, The Queen Mary, during Yule, one of the most haunted times in the Celtic calendar. It is believed souls of the dead prevail and anam cara—soul friends can visit.
Will Travis and Brynna confront the spirit of love, allowing them a chance to heal and find their way back to each other?