Are you looking for some holiday reads or trying to find a book lover a gift? Search no further.
For those who love westerns, outlaws and charming cowboys:
Wanted
is a perfect
escape
. If you like ghost stories and the magic of finding a soul mate,
The Spirit of Love
will keep you spellbound. Even vampires and hunters enjoy the season. In the 2012 Christmas Collection, my tale
Mistletoe, Stakes, and Yuletide Cheer
will satisfy a vampire lover's thirst.
http://www.amazon.com/Karen-Michelle-Nutt/e/B002BLLBPE/
What's your favorite genre? Do you like holiday stories?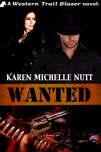 Wanted
Sheriff Jace Kelly's wife died giving birth to his remarkable daughter, Emma. She inherited the families' seer abilities, but being only six-years old, she has the tendency not to know the difference between a vision and just an ordinary dream. So Jace doesn't put too much faith in Emma's recent premonition: marriage for him and a new mother for her, all because she wished upon a Christmas star.
When JoBeth Riley arrives in town, Emma is convinced this is the woman she dreamed about: dark hair, green eyes and shamrocks in her pocket. Only there's one problem, she's the notorious outlaw, Baby Face Jo.
JoBeth's stay in the lumber town is meant to keep Shane Maverick, the leader of the outlaw gang from finding her and breaking her out of jail before the authorities have time to devise a plan to capture him.
JoBeth finds the Kellys a strange lot. A little girl, who believes her dreams are tales of the future and the rugged sheriff whose kindness proves a distraction. She's an outlaw for heaven's sake, but Jace is bound and determined to steal her heart.
The Spirit of Love
Price: 99 cents
Blurb:
A tragic accident leaves Brynna and Travis devastated. Instead of turning to each other for comfort, they drift apart. However, they must complete one more assignment—set on an old ship, The Queen Mary, during Yule, one of the most haunted times in the Celtic calendar. It is believed souls of the dead prevail and anam cara—soul friends can visit.
Will Travis and Brynna confront the spirit of love, allowing them a chance to heal and find their way back to each other?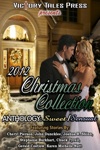 My story is: Mistletoe, Stakes and Yuletide Cheer
What's a hunter to do when she's fallen for the vampire she's been sent to stake?
Cassandra Hayes has been dating Tremayne Graystone, the vampire she's been sent to eliminate. To stake or not to stake is the least of their problems when masked men kidnap them and hold them hostage. They realize all they want for Christmas is a chance to make their relationship work. Kisses under the mistletoe may not make this holiday merry, but they're willing to give it a shot.
The other stories in the collection:
The Wishing Tree by Cheryl Pierson
A war veteran with visible and invisible scars, mostly a loner, meets a special woman and her son. Will he provide their tree for Christmas and change his own life forever?
Holiday Surprise by John Duncklee
Joe and Marge, once high school sweethearts, travel different paths when Joe decides to become a cowboy. Years later, on a special Christmas Eve, Santa Claus brings Joe a surprise.

Snowy Cocoon by Joshua R. Shinn
Ryan Yamada meets his former childhood email pal, Yuki Stanton, during high school. Will their friendship and blossoming love for each other persist despite her domineering father?

Gifts by Stephanie Burkhart
Will Christian and Famke's attraction interfere with them earning a spot on the Netherlands Olympic pairs skating team? Must they push aside their feelings to succeed?
Kimberly's Christmas Cake by Chuck Tyrell
The year Kimberly turned eighteen, she made an extra effort to learn lots of woman things. Would baking a special Christmas cake for Russ Taklin help prove she had grown up?
Family Heirloom by Gerald Costlow
Alone at Christmas, Marian discovers an antique angel in ornaments from the attic. When she places it atop the tree, she begins a journey through time.