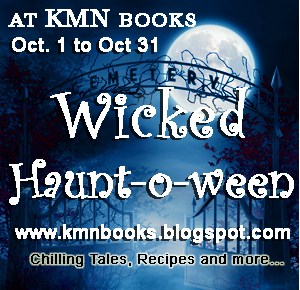 You've come to the right place if you're here for the
Howloween Blog Hop
and if you're here for
Wicked Haunt-o-ween!
Check out all the author posts and enter the contest!
So Trick or Treaters let's chat about vamps!!
Dracula 2000
—When a group of immortality seekers steal the corpse of Dracula, the fate of the world is in jeopardy. Only one of the Van Helsing line can stop him. It's really campy, but I rather liked the the interesting theory of how Dracula came to be.
Salem's Lot
—This mini-series was loosely based on Stephen King's novel. Salem Lot is a town. Mr. Straker, a new member of the community, takes up residence with his partner Mr. Barlow. People start to disappear and some are dying from a mysterious causes.
Lost Boys
—A divorced woman and her teenage sons, Mike and Sam start over in Santa Carla, California. Sam meets some friends who believe in vampires. Of course he doesn't believe them until his brother starts showing signs that he's one of the undead.
Queen of the Damned
- Vampire Lestat has risen from a decades long slumber. He loathes lurking in the shadows and decides to live among the mortals as a Rock Star. His intoxicating music awakens, the mother of all vampires, the ancient Queen Akash, from her crypt.
Buffy the Vampire Slayer
- An American cheerleader who is destined to be the next Slayer. She is the one woman who must defend the world from vampires.
Van Helsing-
Gabriel Van Helsing is a man cursed with a past he cannot remember and driven by a mission he must not deny. Van Helsing roams the globe as a fugitive, hunted by those who don't understand the true nature of his calling. When he arrives in Transylvania, Van Helsing finds it ruled by the evil and seductive vampire, Count Dracula.
Blade:
The story of a semi-human superhero who battles evil, bloodsucking vampires. Blade is half vampire but has devoted his life to killing vampires, with the help of Whistler, a human vampire hunter. His nemesis is Frost, a vampire who aims to take over the world.
Underworld
: For centuries, two races have evolved hidden deeply within human culture, the aristocratic, sophisticated Vampires, and the brutal, feral Lycans (werewolves). To humanity, their existence is no more than a myth. A Vampire warrior, Selene discovers a secret that has terrifying repercussions for both tribes. (I personally liked all the Underworld Movies.)
Love at First Bite:
When Count Dracula spots the beautiful Cindy Sondheim in a magazine, he vows to make her his own - forever.
Interview with the Vampire
-- In 1791, plantation owner Louis De Pointe Du Lac is unhappy with the life he has, until Lestat De Lioncourt comes into his life. Lestat, a vampire. He allows Louis to make the decision of either death or life, but he fails to truly explain life is as a vampire.
The Night Stalker(1972)
--A vampire is loose in Las Vegas and killing people. Reporter Carl Kolchak (Darrin McGavin) is out to find this vampire, but nobody believes him. His editor thinks he's crazy and the police think he's a hindering the investigation, but Kolchak is determined to rid Las Vegas of the blood sucking fiends. (I thought this was so scary as a kid, but I bought the DVD a few years back and couldn't believe how corny it was. lol)
Bram Stoker's Dracula
-- This version of Dracula is closely based on Bram Stoker's classic novel. A young lawyer (Jonathan Harker) is assigned to a gloomy village in the mists of eastern Europe. He is captured and imprisoned by the undead vampire Dracula, who travels to London, inspired by a photograph of Harker's betrothed, Mina Murray.
What's your favorite Vampire Movie?
Twilight's Eternal Embrace
is my new release. Can you guess what it is about? You got it. Vampires!!
Blurb:
The Oiche Sith, the blood drinkers, forged an alliance with the Lathe Sith, a neighboring daywalker clan. The Oiche Sith would protect them from invaders in exchange that one female a year wed one of their warriors for the blooding ritual. Unfortunately, the female Lathe Sith never survives for very long.
Adryanna, a Lathe Sith, mourns the death of her recently mated sister, but she finds solace in the most unlikely place—in the arms of Bram, an Oiche Sith. She should fear him, loathe his existence, but instead she longs for their twilight embraces. Bram admires Adryanna's strength and wishes only to protect her, even if it's from him.
If Bram cannot find a way for Adryanna to survive the blooding ritual the romance is doomed. They seek help from Sheerin, Bram's cousin, who believes he's found a way for the Lathe Sith to survive, but others in the Oiche Sith clan do not wish for them to succeed.
Enter the to win a $10 Amazon Gift Card and don't forget to hop to the next blog on the list:
a Rafflecopter giveaway
Next on the Howloween Blog hop
Abbey Maclnnis:

[Author] {m/f } (spicy )
Vera Roberts:

[Author] {m/f } (sweet )
Tanya Goodwin:

[Author] {m/f } (spicy )
Mummy Charlie:

[Author] {m/f } (sweet )
Krystal Shannan:

[Author] {m/f } (spicy )
Jennifer Conner
: [Author] {m/f } (sweet )
Event Page of the Howloween Blog Hop